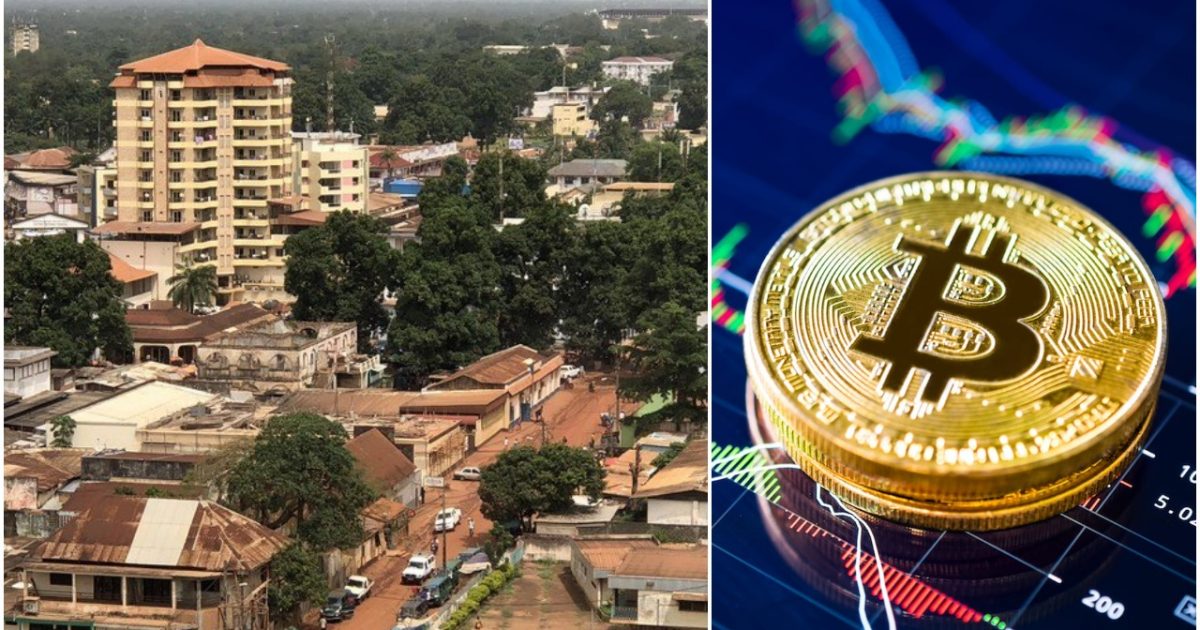 The Central African Republic is the latest country to approve Bitcoin as legal tender as more nations get wise to the scam of central banking.
Gourna Zacko, who serves as the Central African Republic digital economy, post services, and telecommunications minister, and Calixte Nganongo, who serves as the Central African Republic finance and budget minister, came up with the proposal that has been approved by the country's National Assembly.
This is the first African country to adopt cryptocurrency as legal tender. The World Bank has estimated that 71 percent of the residents of the Central African Republic live under the global poverty line of $1.90 per day. The widespread use of crypto may help alleviate the crushing poverty in this country that has a population of over five million.
The Central African Republic is following in the footsteps of El Salvador, whose leader Nayib Bukele implemented pro-Bitcoin reforms back in 2021. Bukele is ready to implement a tax-free Bitcoin City that will attract capital from all over the world and reinvent the tech sector. They are already reaping the benefits of their reforms with additional tourism and investment.
Trending: Non-Interventionist Colonel Douglas Macgregor is Nominated as Ambassador to Germany
Liberty Conservative News has reported on Bitcoin's projected rise in the future as fiat-based currency instruments fail on a grand scale in lieu of inflation and mismanagement:
"Some experts believe that Bitcoin could go from $10,000 to $100,000 in five years.
In a Bloomberg Intelligence report, senior commodity strategist Mike McGlone argues that Bitcoin has a bullish future in the short-term.
Ana Golubova of Kitco News provided an overview of Bitcoin prices over the last decade:
"Bitcoin has had an impressive growth cycle in the last ten years, rising from $10 in 2011 to $1,000 in 2013 and to $10,000 in 2017. And even though Bloomberg Intelligence foresees a slightly slower growth path going forward, it does not rule out a $100,000 price tag in 2025."
As of October 24, 2020, Bitcoin was trading at $13,149.42.
"Bitcoin could continue doing what it has for most of its nascent existence, appreciating in price on the back of increasing adoption, but at a slower pace as we see it. The first-born crypto has had a tendency to add zeros to its price from around $10 in 2011. It took about four years to go from $1,000 to $10,000 in 2017, so doubling that time frame for maturation could get the price toward $100,000 in about five more years," observed Bloomberg Intelligence senior commodity strategist Mike McGlone.
McGlone argued that the main catalyst of the recent surge in Bitcoin price was increased adoption.
"Bitcoin is unique in that supply cannot be influenced by price, leaving adoption as a primary valuation metric," McGlone remarked in his Bloomberg Intelligence update. "Since initially reaching $10,000 in 2017, the benchmark crypto corrected about 70% and remains in an extended period of consolidation around that level. When Bitcoin first traded at $1,000 in 2013, it corrected about 80% and consolidated. About four years after initially reaching $1,000, it added a zero … Bitcoin has a history of adding zeros."
The cryptocurrency's gradually growing market cap is expected to boost adoption, thus leading to higher prices.
"The total value of gold is around $9 trillion vs. only about $190 billion for Bitcoin. For comparison, the benchmark crypto is about half the market cap of Tesla. A big difference is higher prices are increasing the supply of Tesla stock. Bitcoin supply is fixed and declining on an annual percentage basis," commented McGlone."
The ongoing wealth transfer may benefit the third world if countries are wise enough to adopt Bitcoin and reject the IMF/Wall Street/bankster status quo.